Travel information
By plane to budapest:
You will arrive by plane in Budapest, the capital of Hungary. Budapest's Ferihegy International Airport has two terminals: Terminal 1 hosts budget airlines, Terminal 2 hosts national and transatlantic airlines. Terminal 2 has 2 parts, Terminal 2A and Terminal 2B which are adjacent to each other and connected by a short passage.

The official site of the airport: http://www.bud.hu/english
By airport shuttle bus from budapest airport to Szeged:
The Local Organizing Committee has arranged airport shuttle buses from Budapest Airport to Szeged for the participants of the conference during arrival and departure times. The shuttle bus will drop you off at your hotel in Szeged. 
The price per person for a one way ticket is 60 EUR. For further information about the shuttle bus and to book a seat on it please see our registration form.
By train from budapest or budapest airport to szeged:
The train from Budapest to Szeged also stops at Budapest's Ferihegy International Airport. The Airport station is located near Terminal 1, which is a ten minute bus ride from Terminal 2. If you land at terminal 2, you will need to take Airport Bus No. 200 or 200E from Terminal 2 to the station stop, which is called Ferihegyi vasútállomás , Hungarian for "Ferhegyi railway station".

 You can buy a ticket on the bus from the driver for 450 HF (= about 1.50 EUR). You do not need to have exact change. You can also buy a ticket in advance for 350 HUF at the post office, the newsstand called "Relay", or BKK Client Point. There is also a ticket vending machine at the bus stop itself. The journey to the stop for the train station takes about 10 minutes. Please note the bus stops for yourself because all signs are given in Hungarian, not English.
Bus stops are the following:
1. Liszt Ferenc Airport Terminal 2 
2. Repülő tér, P+R
3. Vecsés-nyugat 
4. Repülőtéri Rendőr Igazgatóság
5. Ferihegyi vasútállomás (the railway station, near Terminal 1, this is where you get off the bus)
To get to the platform to Szeged you need to leave the bus stop and cross the tracks by means of a footbridge. Once on the footbridge, as you approach the other side, you will see a sign for the trains to Szeged. 

                            The footbridge.                                                 The train on this side goes to Szeged. 

                                                                              The train.
Hungarian state railway company MÁV operates a domestic ticket office at the Ferihegy train station every day from 6:00 a.m. to 6:00 p.m. In addition, train tickets can also be purchased from the ticket machines located on the platforms. You can use credit or debit cards. Please note, however, that tickets machines only communicate in Hungarian. If you are unable to buy a ticket at the station, you can always purchase one from the conductor for a small surcharge. Tickets for destinations not shown on the ticket machines and supplementary tickets for premium category trains are available from the conductor on board the trains, without a surcharge.
Trains run every hour from 6:13 am till 8:13 pm. 
Intercity ticket price with a reserved seat: 4210 HUF for a single, one way ticket (about 17 EUR). You will receive two look-alike tickets, one for your train fare and another for your reserved seat. Once on the train you can sit in your reserved seat or in any free seat.
Passenger information display shows: 
From: Budapest, Nyugati-pályaudvar 
To: Szeged 
Travel time: approximately 2 hours
Offer for departing passengers: As a result of cooperation between MÁV and the Budapest Transport Center, passengers taking the train to the Ferihegy train station can purchase a discount bus ticket for their journey to Terminal 2. Discount bus tickets cost 300 HUF, and are only available together with the train ticket, from ticket offices at railway stations. Discount tickets are only valid between the bus stop next to the Ferihegy train station and Budapest Airport Terminal 2, on bus number 200E (during the daytime) or night bus number 900 (at nighttime). 
Again, you need to take 200 or 200 E bus from Ferihegyi vasútállomás to Liszt Ferenc Airport Terminal 2 on your return journey .
By car from budapest to szeged:
The M5 motorway connects Budapest and Szeged. If you use any of the country's motorways you will need to buy a motorway ticket at any petrol station. Price: 2975 HUF (good for 10 days), 4780 HUF (good for 1 month). Travel time: 1,5 hrs. To find your way through the city by car, please consult the city map and address finder.  If you rent a car, please make sure the rental fee includes the motorway ticket and insurance.

Rent a car:
There are several car rental companies at the Airport and in the city of Budapest. We recommend that you book your rental car prior to arrival. For possibilities you can use this link.
Public transportation in Szeged:
You can use the following modes of transportation in Szeged: bus, trolley, tram, taxi. If you take a train to Szeged, you can take the tram that stops in front of the station into the city centre. Tickets may be purchased at the kiosk by the door from which you exit the station (about 1 EUR). You can also walk (about 20 minutes).
Public transport in the city from the bus and the railway station: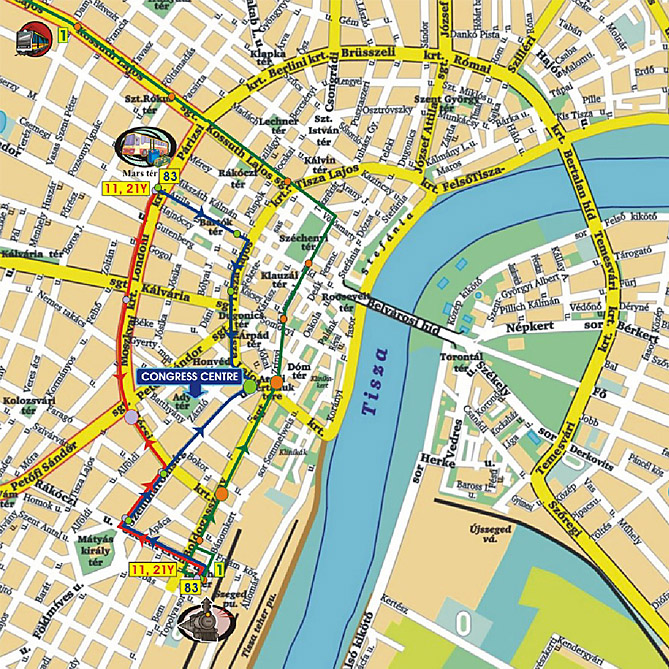 PLEASE NOTE: You can purchase a ticket for public transportation prior to boarding at post offices and kiosks, or you can buy it on board for an extra price. One ride is approximately 1.4 EUR per person on board.
If you need any assistance, please contact us: info@regio10.hu
PLEASE NOTE: As the organisers cannot take responsibility for any personal injury, loss, damage, accident to private property or additional expenses incurred as a result of delays or changes in air, rail, sea, road or other services, strikes, sickness, weather, acts of terrorism and any other cause, all participants are encouraged to make their own arrangements for health, travel and cancellation insurance.